I have some ideas to help you get more fulfillment from Christmas as you join millions to #LightTheWorld
For the past several years, The Church of Jesus Christ of Latter-day Saints has invited members and friends to #LightTheWorld. It is a call for all of us to bring the focus on Christmas back to Jesus Christ.
The initiative is broken into four main areas of focus. Light The World, Light Your Community, Light Your Family, and Light Your Faith. This is a great departure from years past that had a different focus every day. Now there is a whole week spent on sharing joy in each of these areas.
Let's take a closer look at each one and learn about some great resources available to help you do what this year's theme directs; to "Give as He Gave".
General Resources
One of the best places to visit to get started is the official page for #LightTheWorld- LightTheWorld.org. There you will find inspiration videos, service ideas, and others who are sharing their efforts on Instagram. As you share your your experiences, be sure to use the official hashtag, #LightTheWorld. You might just see your picture on their site!
We created a Google Calendar you can subscribe to where you can have the weekly initiatives outlined and see some helpful ideas. It makes it so much easier to have them on your phone, rather than on a PDF you have to keep coming back to.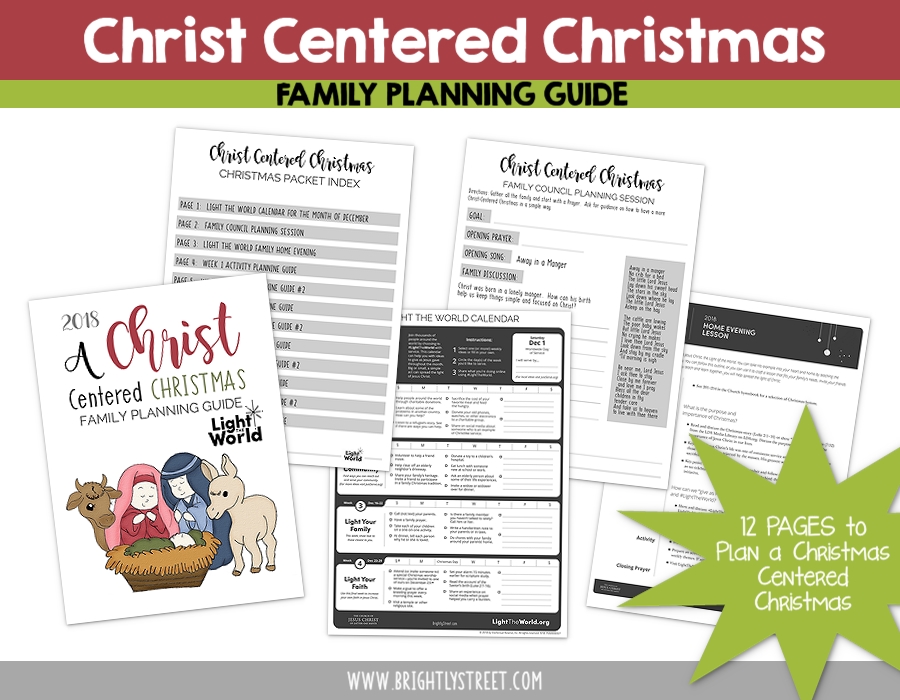 Another helpful resource is on Brightly Street. Melia created a planning guide for families to Light The World. It had instructions for a family council to kick off the month and worksheets to plan activities for each week of the initiative. While you can always Light the World on a whim with very simple things, you can get so much more out of it if you are willing to put more in.
Light The World
This week is a time to think globally about serving those in need. There are a lot of worthy organizations out there that you can team up with.
Here in Arizona we have a charity called Feed My Starving Children. As volunteers, we show up to pack meals for children in impoverished nations. They do a great job helping you to know the impact of your work and every session ends a story of a child who was saved by the work done by volunteers like us. They also begin and end each session with prayer. It is the "go to" location for all my Boy Scouts when they are looking for service opportunities.
In selected cities, you could visit one of the #LightTheWorld Giving Machines. These machines aren't everywhere, but we are getting one here in Arizona! Everyone is so excited about it. My Deacons Quorum is working to earn their own money. We are going to spend a mutual activity allowing them to purchase their own gift to give to those in need.
There are a ton of options as The Church is partnering with local and global partners to give. The machines have basic needs like warm socks, sewing kits, and first aid supplies. There are also some unique items like chickens, seeds, and eye glasses. Everyone I know whats to give a goat!
Mormon Life Hacker has a great write up on how the machines were received last year, their impact, and locations for this year.
We are doing a neighborhood bake sale to help our children earn money to give. My wife Kristie over at Our Kerrazy Adventure created a great print out that you can use to make a banner for a bake sale of your own!
Light Your Community
This week is a time for us to give back in our communities. It is a time to look at your own neighborhood, schools, and town and see where there are opportunities to give back.
Another thing that my talented wife Kristie made was these water bottle wrappers. Water can mean so much when you are going without it. Last year I set out a case of wrapped bottles backstage during the Millennial Choirs & Orchestras concerts. I saw people take pictures to share; another picked it up and as she read the label took a contemplative moment before opening it.
Kristie took some and gave them out to runners on their trail at a nearby park. She brought along the Cub Scouts and they had a fun time chasing people down. You can get these #LightTheWorld water bottle wrappers on OurKerrazyAdventure.com.
Kristie and I have been working hard to include #LightTheWorld in our callings. She currently serves with the children in the Primary Presidency. She made them an acts of giving paper chain print out. The children get to write all the little things they are doing to #LightTheWorld and make a chain that goes all around the Primary room. I can't wait to see it!
There are some other great resources for Primary from Megan Hanson of PrayLoveTeach.com. She created a great Sharing Time lesson resource that gets these little ones ready to Light The World themselves. There are only a few Sharing Time lessons left -ever- so make the most of this time.
Even if you don't have a calling in church or a responsibility in your community, you can still serve your community as a family. Our Kerrazy Adventure also has these great service scavenger hunt cards.
Light Your Family
As our family has celebrated Christmas by giving to others, we have seen a wonderful change happen. They no longer obsess over what Santa is going to bring them. Instead; they spend time making notes, baking goodies, serving strangers so they can "Give as He Gave".
My wife observed,

Last year I noticed a big change in my family. Especially my kids. Christmastime sometimes can be filled with parties and busyness, and the increased desire for wants! Kids are sent catalogs and commercials insisting your kids need stuff. But that's not what I really want this time of year to be about.

When we spent time watching quick videos and shifting our focus on serving others an increased amount of peace and joy entered into our home. The "worldly" things seemed to not matter and instead my kids were sharing things they had done and how it made them feel. Our home had more peace and love. And our testimonies are strengthened. We grew closer together and closer to our Savior Jesus Christ.

Kristie Kerr @ Our Kerrazy Adventure
To help there be more harmony in our home, we have some secret service cards that are meant to be left behind as we serve each other. These calling cards left behind let that person know that they are loved and encourages then to pay it forward my serving someone else that needs to feel loved as well.
My wife has these family secret service cards on her website to help other families serve each other.
Last year Family Search shared five great ideas of ways to Light The World with Family History. It isn't all just pedigree charts and GEDCOM files.
Much of the article focuses on learning family stories and building closer bonds. You have a rich family history and you should reap those rewards.
Light Your Faith
I am so glad the Restored Church of Jesus Christ felt the need to include this area of focus. It really serves as the capstone to Light The World. It is a time reflect on who you were truly serving and who you were serving like. Jesus Christ is who this all comes back to and it is important to take a moment and evaluate your faith in Him.
This week begins with a special Christ centered worship service at meeting houses all around the world.

In week four, "Light Your Faith," participants are invited to increase their faith in Jesus Christ through prayer, scripture study, visiting a temple or other religious site or attending a special Christmas worship service. On Sunday, December 23, the public is being invited to a Christ-centered one-hour sacrament meeting in their community. Locations and schedules for these services of The Church of Jesus Christ of Latter-day Saints can be found in the meetinghouse locator on LDS.org.

–Newsroom
With this also being the week of Christmas, it might be good to reflect how we are remembering Jesus Christ on these busy holidays. We noticed we were missing a focus on the Savior. We decided that we would stay home on Christmas Eve from now on and host a little Nativity Pageant.
Our family has hot soup and fresh bread and invite any who would like to join us. Use my Nativity Script to Light The World on Christmas Eve.
The rest of that week can be spent in pondering how next year will be different. How will you keep the good feelings you experienced to keep going. What will you do differently in the New Year to improve your relationship with Jesus Christ?
How Will You #LightTheWorld?
I want to know how you will be a Light to others this Christmas. Comment below with your ideas, articles that inspire you, and more importantly a report on how your efforts went.