Okay, if you wait outside the exit door long enough… No, this won't be that sort How To post. But let's face it; movies have gotten expensive! When I was in my younger days I was not always on the up and up when it came to getting in the movies.
One of the things that changed me was when our Scout Master/Deacons Quorum Adviser had found out that some of us had paid for child tickets to a group outing to the movies, when we were actually old enough to be charged full price. That Sunday he spoke to us about honesty. After it was over I was so ashamed I just wanted to hide under a rock. I assume it will be similar for us at judgment day. I haven't been perfect, but with that experience and the "No Ticket" scene from Indiana Jones and the Last Crusade I have striven to be better.
But we want to legally help you get into the movies for Free, or at least at a significant discount!
How to Get into the Movies for Free
Product Promos
When a big movie comes out there are often cross promotions that come out to get people to see that movie and buy certain products. Right now there is a promo with Kellogg's and The Amazing Spider-man. (
Our Review
) We went to Sam's Club and bought a box of Rice Crispy Treats and Cheese-Its we were able to get enough points to redeem for a free ticket. There are a bunch of
other products
you can get too.
There is also a great promotion for Batman: The Dark Knight Rises (
Our Review
) happening. If you buy Batman: Begins or Batman: The Dark Knight you get $5 off a ticket to see The Dark Knight Rises. Plus right now at Walmart Both these movies are on sale for $5 each! (Expired)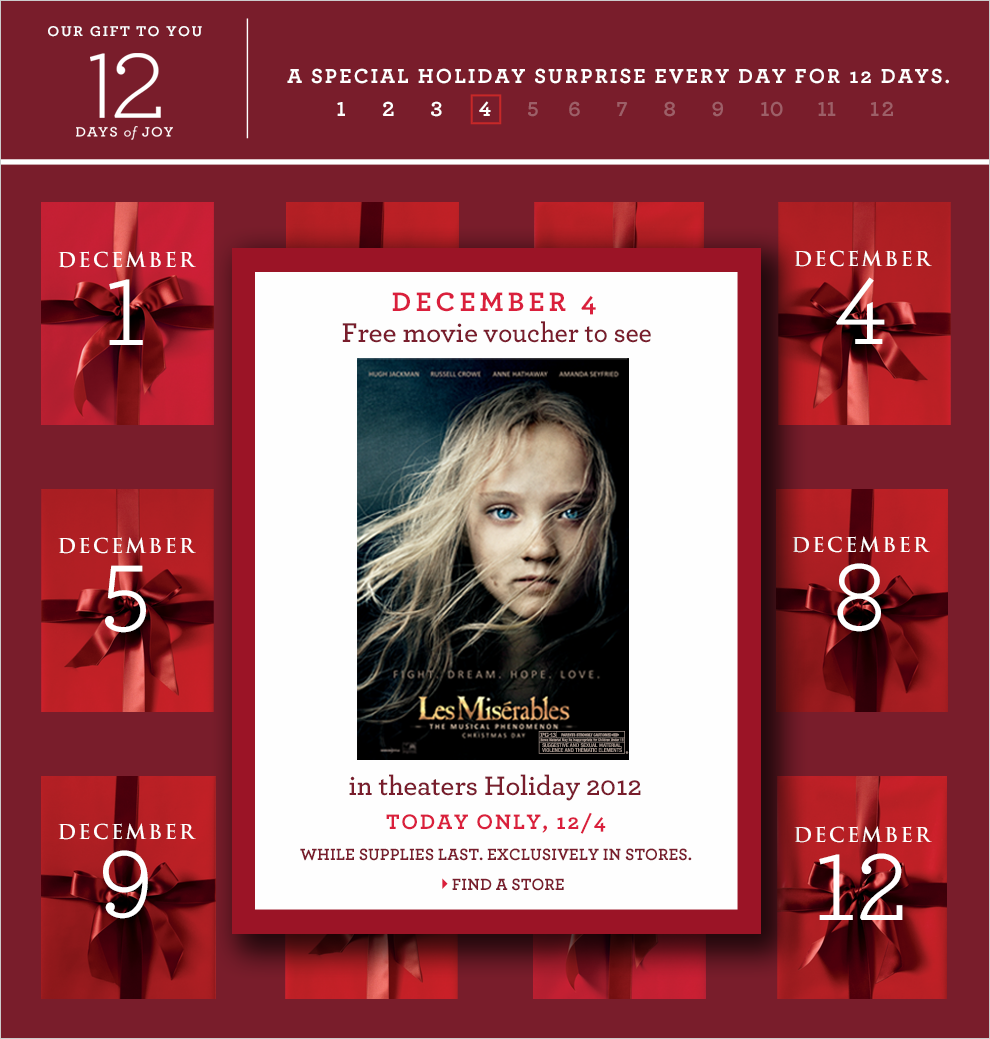 (Update 12/4/12)
There is a Promotion at Banana Republic today offering a free ticket to Les Miserables. Some are saying you have to buy something, but the Facebook photo says no purchase necessary Make sure you have it with you. But it would be nice to buy something, or at least browse around.
Point Redemption Sites
One of our best ways to get free movie tickets, is using
Viggle
on our smartphone. Viggle is a app for your phone that rewards you for the shows you are already watching. Viggle automatically identifies the television shows its users are watching and awards them points when they check-in. Viggle users can redeem their points in the app's rewards catalogue for items such as movie tickets, music, gift cards or they can convert them into charitable donations. If you are watching the Olympics right now it is a great time to join. Not only do you get points for checking in, but you can earn bonuses for answering questions as you watch. Movie Tickets from
Fandango
can be redeemed for 21,500. I earned about 2,000 just from watching the Olympics today.
Movie Screenings
Movie Screenings are a great way not only to get into the movies for free, but before anyone else. A site we are big fans of is
Gofobo
. We have gotten many invites to see advance screenings. Some have been good, some awful. You probably won't get offers to see any blockbusters, but we have enjoyed the experience. Registration is free and you always get a synopsis of the movie so you can pass on the ones you aren't interest in or wary of the content. One of the best movies we were able to see was an advance screening of the remake of
Footloose
. We have also been using
Advance Screenings
because they are sort pull from a bunch of different sites.
Hot to Get into the Movies for Cheap
Discount Ticket Sellers
There are a few places you can get Bulk Tickets is smaller amounts. Usually you have to buy about 50 at a time, but with sites like
BulkTix
you will only have to buy 4. Starting at just $7 each. Perfect for a double date! Order passes online, they come to your mail box, and you just turn them in at the box office. Plus right now if you use promo code "MormonReviews" at the Google Checkout you can get Free Shipping. They also have concession discounts as well.
If you didn't plan ahead and you have a Costco membership you can also get passes to Regal, Cinemark, and AMC Theatres at the club.
Rebate Sites
When buying advanced tickets and you are out of
Viggle
Points and Discount Passes, sites like
BeeSavy
can help you get a little rebate back when you purchase tickets from
Fandango
.
Daily Deal Sites
Site aggregators like
Yipit
and
Slickdeals
scan for offers from multiple daily deal sites. If you are in Southern California like us you can get the deal I found today from
Amazon Local
. 2 Movie tickets plus a large popcorn for $15. Only 1 day left from the time of this posting.
Because these deals are sometimes region specific it can be helpful to follow sites like ours that can help you find these offers. Even though the Amazon
Ultrastar
deal is being offered in Northern Orange County, you can use it at any Ultrastar theatre! So like us on
Facebook
, follow us on
Twitter
, and Join our blog on
Google Friend Connect
to keep up with all the latest movie reviews and ticket offers.