I was listening to The Cultural Hall this week and one of the panelists was talking about how she was going on vacation with the kids and her husband was not able to participate because he had to work. She has expressed some feeling of guilt in going without him. Today my wife posted about part of the trip she just took to California with my kids for three weeks.
As hot as it was here is Arizona, I was not jealous or resentful at all. I consider it my duty and an honor that I can work and allow my wife to be at home (or away from it) and raise our kids. She is creating experiences that they will remember forever. No one could care for them as much as she does.
I try my best to remember the words of D. Todd Christofferson, "Though he will make some sacrifices and deny himself some pleasures in the course of honoring his commitments, the true man leads a rewarding life. He gives much, but he receives more, and he lives content in the approval of his Heavenly Father. The life of true manhood is the good life." (Christofferson October 2006)
Would I have liked to California? You bet! But right now that isn't possible. I trust that someday it will be and the experience will be all the sweeter. Until then, I am content that she share their experiences and I want to share the most recent with you.
-Grady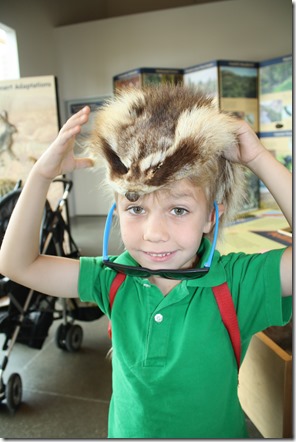 There are so many fun things to do in Southern California. And lots of them are free. I knew, even when we lived there, that we weren't taking advantage of all the amazing things that there are to do in Orange County. So I make list and attempt to try new places for my family to experience.
In June when we were staying with my mother in law she mentioned a neat place she wanted to take our family. I was super excited when she told me because The Environmental Nature Center was already on my to visit list. And it did not disappoint.
To read the full Adventure join Kristie at OurKerrazyAdventure.com