I made the mistake of introducing my wife to Amazon. Luckily she buys some pretty cool stuff and is ultra frugal. Checkout what she has in her shopping card for #PrimeDay.

So exciting! Today is Amazon Prime Day! If you have been sitting on the fence about joining Amazon Prime now is the day to get on it! I love the two day shipping! And there are so many great benefits. I know I need to utilize them more. Here are some of the great benefits of having Amazon Prime listed in this link. It's the perfect day to buy Christmas gifts, Halloween costumes (blessing of deciding early what we are going to be), party supplies, Anniversary gifts (next week honey!), Ben and Jerry's Ice Cream book with Peach Ice Cream recipe in it or anything else you have been meaning to buy. There are so many great sales going on today for prime members. Be sure to check it out! And help a sister out my clicking on my link before you do. It will help pay for my kids Christmas gifts at no extra charge to you.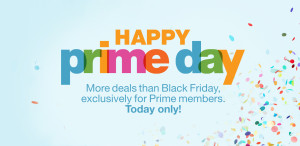 If you need more ideas on what to get check out these post with my favorite things or my favorite summer items. Be sure to check out all the great sales going on today. They say it is even better than black Friday. Happy Shopping and leave a comment on what deal you got!
Some of these items are affiliate links. You are welcome to buy them from anywhere. But I don't mind if you buy them from here. I make a small commission at not extra cost to you. I only share items I really like. Thank you for your support!